what role you think gender has played in your media preferences at different points in your life.
I'm a girl, have known from birth never questioned or had a feeling that I am different.
As a child I was never forced to watch or consume girl only shows, I loved both shows focused on girls and boys,  did remember asking my mother why power rangers was only showed  and advertised towards boys but I didn't care I watched it before my dinner and went to sleep watch winks to become a fairy.
Power ranger before my Lunch
And a member of the   Winks Fairy Club after my Dinner ]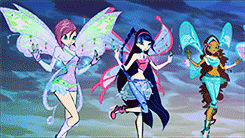 As I grew up my consumption of media did slowly become female focus this can be shown with the books  such as Divergent, and Hunger Games that I read with my generation the, characters
Reference Image :